Perfect facial features are the dream of every girl. How to look beautiful at any time of the day, stop wasting precious time on makeup, and put cosmetic brushes and pencils in a drawer for a while? The answer is known in the permanent makeup studio LStudio_beauty. Svetlana Lavrova, head of the studio, make-up artist, brow-master and teacher of the permanent make-up course, shared the secrets of perfect eyebrows, lips and eyes with Mychel.ru.
As men say, 90% of a woman's beauty can be wiped off with a damp cloth.
– Svetlana, do you do permanent makeup or tattooing?
– Permanent make-up and tattooing are general concepts. The procedure involves the introduction of a colored pigment into the upper layer of human skin in the region of the eyebrows, eyelids or lips. It can be carried out both manually and with the help of a special apparatus. If we talk about the hardware method, then its essence is as follows: the master uses a special apparatus with a needle to put dots on the skin that form a line. So you can "draw" eyebrows, arrows on the eyelids, fill in the space between the eyelashes and give the lips a contour or color.
In Russia, permanent makeup is in demand more than ever. Of course, now this procedure is fundamentally different from what our mothers did, but its popularity among modern beauties is only growing.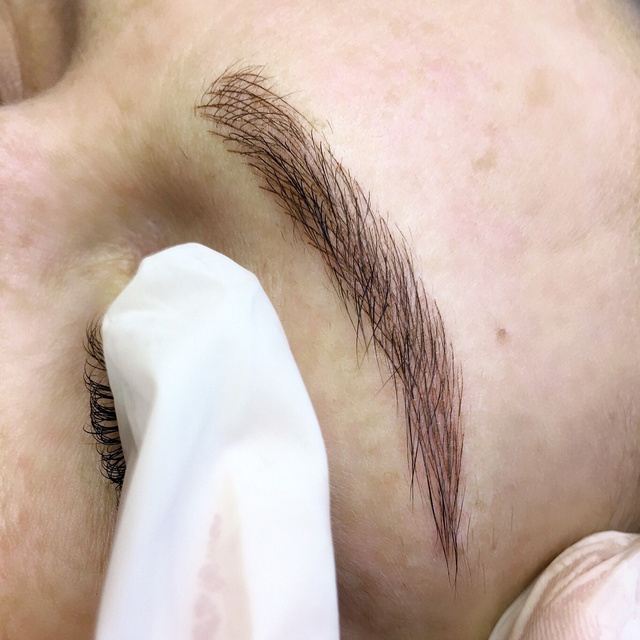 – Why?
– Permanent makeup solves several women's problems at once and makes life much easier for girls. With the help of modern methods of tattooing, you can easily transform and complement facial features. Even slightly changing the shape of the eyebrows, for example, can make the eyes more expressive. Plus, it saves time. Every day, a girl spends from 20 minutes to draw her eyebrows, eyes or lips in the morning. For some, this is indeed a problem. With permanent makeup, a girl will look beautiful at any time – naturally and well-groomed. Tattoo makes girls even more beautiful – everyone dreams about it.
How to prepare for permanent makeup? Does the girl need to do something on the eve of the meeting with the master?
– Stock up on a good mood and be happy: you can sleep 20 minutes longer in the morning, and in the evening you won't have to wash off the beauty. ( Smiles .) Seriously, a few days before the procedure, it is worth limiting the consumption of alcohol and drugs that thin the blood. After the permanent has healed, you can live a normal life without any restrictions.
– How does the procedure go, and how long does it take for the face to heal after permanent makeup?
– The procedure takes a maximum of two hours. To begin with, we communicate with the girl, find out what worries her, and discuss her wishes. We select the shape and shades that suit her. During the procedure, I tell in detail what I will do in the next moment, I warn about possible sensations – it is important for me that the client is calm and comfortable all the time.
Permanent makeup lasts on average from one to one and a half years, depending on the condition of the skin, lifestyle, metabolism of the girl. The more active it is, the faster the pigment will come off. After the procedure, small crusts or peeling may form on the eyebrows or lips – this is a reaction to damage to the upper layers of the epidermis. If they interfere strongly, you can treat with an ointment to soften and heal. But in general, the crusts do not cause any particular inconvenience. There is an interesting point: when they come off, the color on the new lips and eyebrows is not always immediately noticeable. This should not be frightened – the desired shade appears within a month after the procedure. After a month and a half, it is necessary to make a correction to consolidate the result.
Does permanent makeup hurt?
– It doesn't hurt at all, I use cream anesthesia before and during the procedure. Possible pain sensations depend on the individual characteristics of the body of each girl, on her pain threshold.
A successful tattoo is one that only you and your master know about.
 – A couple of years ago, everyone started talking about microblading. How is this procedure different from a regular tattoo?
Microblading is a manual technique for permanent makeup. It is carried out by a master and a special maniple with a needle. Microblading allows you to draw each eyebrow hair, creating the most natural shape, thickness, bend and color shade. The result looks so natural that it is difficult to determine where the natural hair is and where it is painted. Microblading is considered successful if others do not even know that you have corrected something for yourself.
– When choosing between a hardware permanent and manual microblading, should you give preference to the second one?
– The result of these procedures varies, and it is impossible to say unequivocally which technique is better. If a girl has normal or dry skin, and at the same time has her own hairs on her eyebrows, microblading will be the perfect solution. If the skin is porous and prone to oiliness, then the hardware technique in the "shading" technique for this type will be more successful. If we talk about other differences, then the hardware method is less traumatic and more superficial. The tattoo will come off faster compared to microblading. For girls who follow fashion, this is even a plus, because trends change very quickly. So everyone chooses a procedure to their liking.
What eyebrows do fashionistas wear today?
– Eyebrows with a clear line, which were done a couple of years ago, are no longer relevant. For the last year and a half, on the contrary, hairs that grow as naturally as possible are valued. Now the widest eyebrows with almost no bend are in fashion – they symbolize youth. After all, young girls have just such eyebrows – thick and fluffy. I think that mindlessly chasing fashion is not worth it. Choose those sizes, shapes and shades that suit your face, look harmonious and natural on it.
– Is it possible to predict what forms will be in trend in a year?
– To keep abreast of the latest trends in the beauty industry, I am in constant professional development. I regularly travel to Moscow and foreign workshops, seminars and conferences. I bring not only trends, but also knowledge about new materials and tools.
– I suspect that certificates and diplomas do not yet make a permanent master a good master. How to understand that you are really a professional?
– Over the past year, the number of eyebrow masters in Chelyabinsk has increased tenfold. It's really getting harder to find one. Do not try to choose the cheapest offer. Your own face is not the place to save money on. The experience and qualifications of the master is more important here than the cost of his services. Before recording, find out how often and how much the master invests in himself, if there are any recommendations. It is very important to look at the healed works. High-quality materials for permanent make-up cannot be cheap either. Any cosmetic procedure should be carried out in a clean, well-groomed and tidy office.
Everyone can learn the secret of perfect eyebrows
– Svetlana, people come to you not only for beautiful eyebrows. In your studio, you run training courses on brow architecture and microblading.
– Yes, two years ago I launched a training program on manual permanent makeup techniques. Many girls want to get into the beauty industry, but do not know what area they should choose. This course is suitable for everyone and does not require any special preparation. We will teach you everything from scratch, starting with a basic course in eyebrow architecture.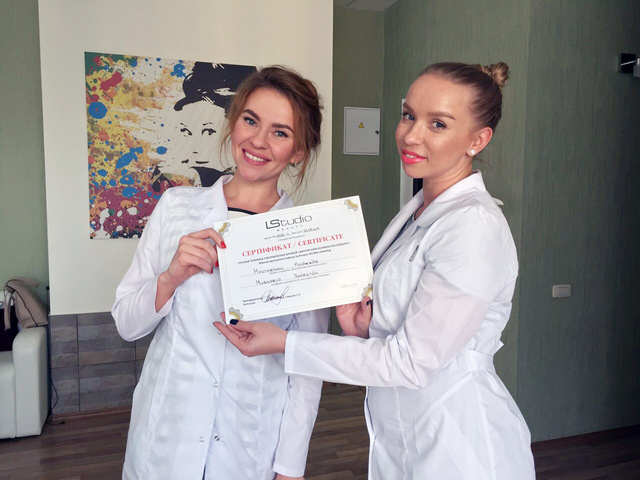 – What does the course consist of?
– Microblading training takes three full days: the first two we do theory with practice on artificial skin, then we move on to practice on models. All this time I do not leave the students – I direct each of their drawn lines. Small groups – three people each – allow you to work individually with each student. Well, I don't leave my girls after training – they can always call me with a question or advice, because especially at first it's very important to feel the teacher's support.
– What is the point of your education?
"It was based on my own experience and the mistakes I went through. Microblading masters tell students how to choose shades, how to draw to correct the appearance. But for some reason, those rakes that can be encountered on a professional path are bypassed. And there are plenty of pitfalls in this technique. It is important for me to teach all the subtleties on which the outcome of the procedure depends. Knowing what to rely on and what not to do will largely protect the craftsmen from dissatisfied customers and their own disappointments.